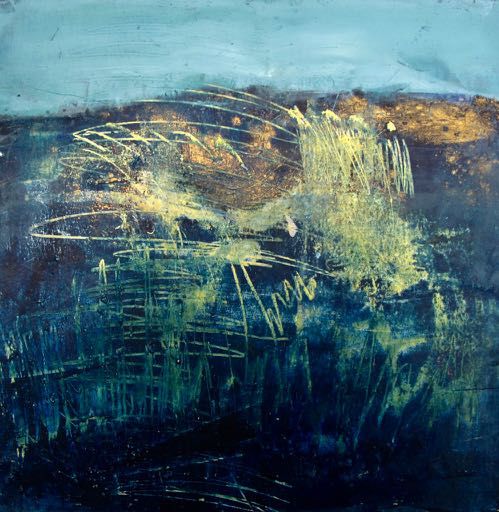 How a pain in my neck gave me back what I had learned and lost . . .,
Art, like life, is all about change and learning to adapt and roll with the brushes . .
I thought I had this figured this out. I learned I hadn't when I couldn't lift my head or look sideways for all most 18 months.
What I realise now is that that pain in my neck gave me back what I had learned and lost.
It gave me back a skill I acquired in my early years. Gazing. I used to know how to really look. To absorb. To engage with an 'empty' mind . .

When I began to paint again, it was in a radically different way . . . I used to paint from the outside in. Now I paint from the inside out. I have become more engaged with the process . . . Over time an image is revealed slowly by layering alternate skins of transparent or opaque paint mixed with wax. As it dries, I might use ash or sand, applied in thick layers (or thin). This surface can be scraped, scored, scratch or gouged. Deep fissures appear and are retained or transformed by a wash of solvent or a dash of pure pigment beaten into the surface.

Each skim creates a new layer that can be revisited, revised . . and always re-worked. This process of creating, obscuring, veiling and unveiling means that it sometimes it is hard to stop. All is exposed and none is revealed because this engagement with the image never ends, even long after it has long left my studio . .
And through this process, I have become the painter. The painter I was never born to be.